Welcome
We are a vibrant church in Redmond, Oregon, with activities for all. We study scripture, perform service in our community, and provide a loving, caring place for our children, youth, and adults. We are blessed to be active for our Lord Jesus Christ. We welcome you as we worship, learn, grow and play together.
Click New Here below to learn about our church community.
Location: 529 NW 19th St., Redmond. Phone: 541-548-3367
One-half mile north of Redmond High School -
MAP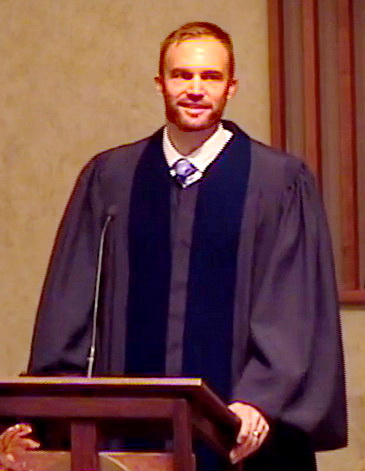 This Week's Sermon - January 14
"Good News for Broken People"
Pastor Andrew Hoeksema
Sunday Morning Contemporary Worship Service 9 to 10 am
Features our pastor's message connecting Biblical scripture with contemporary issues plus our own Praise Team of Musicians.
Sunday Morning Traditional Worship Service 11 to 12 noon
Features our pastor's message connecting Biblical scripture with contemporary issues plus our own Chancel Choir.
Education Classes Available for All Ages
Children, ages 6-11,
have Sunday School each week from 9-10 am and 11-12 noon in the education area located on the lower level of the church building.
Middle school youth, "Teen Talk"
during the 9-10 am service
Adults
have opportunities for in-depth study of the Bible through current topics.
9:30 - 10:30 am,

"It's in the Book….God's Amazing Book". January 21

topic: "Looking Outward",
in the Mountain Room
Throughout Sunday morning, from 9:00 am to noon, two qualified nursery workers are prepared to care for your young children, infant through age 5.
It's Fiesta Time at Mazatlan's Restaurant!
Plan on dinner on Thursday, January 18, for a youth fundraising dinner at the Hwy 97 Mazatlán's from 5:00-9:00 pm. Enjoy a wonderful meal while supporting the Youth Mission Fund. Vouchers are not required.
New Members' Class
Sunday, January 21, at 12:30. All are welcome to learn more about our congregation, the Presbyterian Church (USA), and consider making the commitment of membership in 2018. Please contact the church office 541-548-3367 if you are interested in attending.
Annual Congregation and Corporate Meeting
Wednesday, January 24, will begin with a dinner at 5 pm followed by the annual congregationa and corporate meeting at 6 pm. This is our yearly meeting to report on all of the church activities, committees, staff, deacons and elders and the events that have occurred the past year. It will include the financial reports as well as the 2018 budget. This is a most wonderful opportunity to see what what has happened in our church the past year and hear about all of the amazing things that our committees and staff have accomplished.
Annual All Church Breakfast
Saturday, January 27, at 9 am. The breakfast will be catered by Tate and Tate. The guest speaker will be Linda Hill from the Redmond Art Council and she will give a slide presentation of all the beautiful art work that appears in the City of Redmond. The cost is $10.00 per person. Tickets are available in the narthex.
Lenten Prayer Retreat
March 6-8 will be the Lenten Prayer Retreat at Mt. Angel Abbey Guest House in Mt. Angel, Oregon. This trip has proven to be a wonderful experience for all who attend. This is a quiet time of prayer, meditation, and renewal at your own pace or participate in group activities. The meals have been a much appreciated feature of the retreat! There will be a sign-up sheet on the narthex table in January. For information and cost, contact Mike Jacobs through the church office.